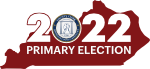 A Message from Jefferson County Clerk Bobbie Holsclaw

As Jefferson County Clerk and Chairperson of the Board of Elections, it is my responsibility to secure the democratic process for all registered voters by ensuring the integrity and security of our election process. As Primary Election Day approaches, our office has been working tirelessly with preparations.
Recent changes to Kentucky's election laws have expanded access for voters to cast their ballots, including six days of no-excuse, in-person absentee (early) voting at six area voting centers. Early voting will be conducted May 12, 13 & 14. Election Day (May 17) voting will be conducted at over 200 polling locations throughout Jefferson County.
We've made all information available on voting in the Primary Election accessible on one convenient page, including voting locations, voter eligibility and sample ballots.
Click here for the latest on how to vote in the Primary Election.
I want to assure every voter that elections in Jefferson County are conducted fairly and securely, with a record bipartisanship throughout the entire process. If you have any questions regarding the upcoming election that cannot be answered on our website, please contact our office by phone, email or through Facebook.
Bobbie Holsclaw
Jefferson County Clerk &
Chairperson, Board of Elections